About This File
Redsys payment gateway for WooCommerce
Redsys is the most-used gateway in Spain (98%).
With this extension, you get:
Redsys Gateway
Iupay Gateway
SNI Compatibility (Let's Encrypt)
Two Terminals
Refund
Tokenization
Pay with one click
Pay with one click without leaving the website
Preauthorizations
Approve preauthorizations from WooCommerce order
Direct Debit
Compatible with WooCommerce Subscriptions (all options)
Private Products
Logo customization
Redsys Language from WordPress admin
WPML Compatibility
Action selection after Redsys error
Get informed by email when a customer has a problem paying in Redsys.
Sequential invoice number
CSV exporter
Compatible with PHP 5.6, 7.0, 7.1, 7.2 and 7.3
This extensión add the ability to use Redsys Gateway and Iupay Gateway. Iupay Gateway is the new Redsys Gateway similar to Paypal. Use a second terminal number is allowed by this extension. It is WPML compatible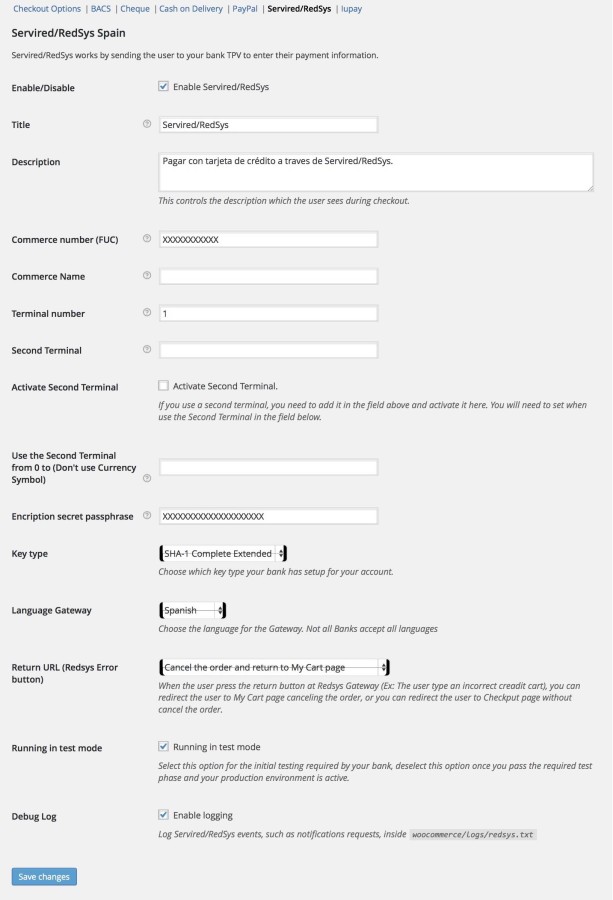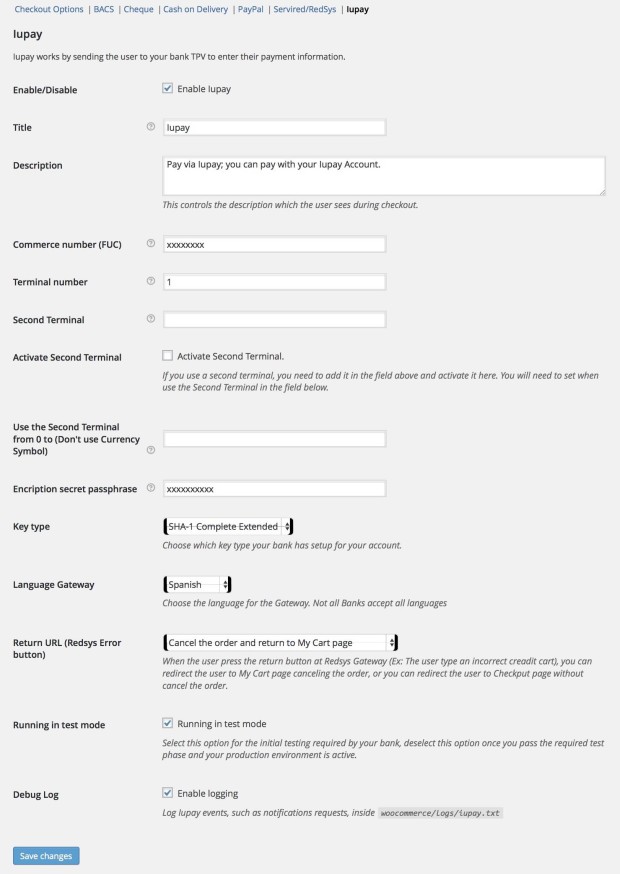 Too the extension add sequential invoice number to every paid order. This is essential in Spain. The spanish law is very strict with this. If you don't have sequential invoice numbers, you can have a very big problem.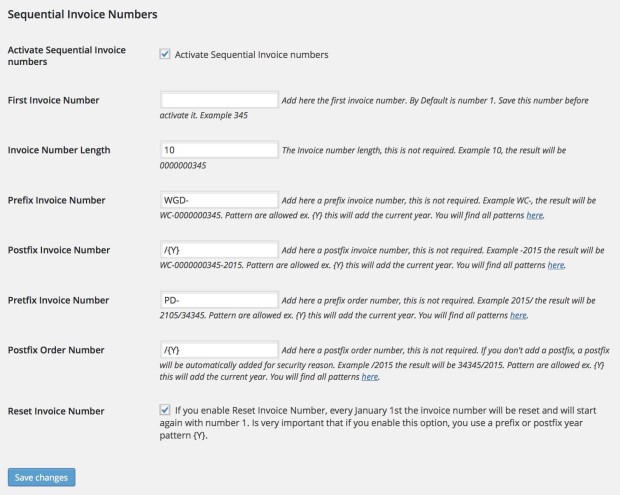 A CSV exported is included, so you can export all orders to a CSV file and import it to an Excel. You can use this file for sent the orders, or use for accounting.
Pasarela de pago Redsys para WooCommerce.
Redsys es la pasarela de pago más usada en España (98%). Gracias a esta extensión obtendrás Redsys, Iupay, Números secuenciales de facturas, y exportador CSV.
Con esta extensión cónsigues:
Pasarela Redsys.
Pasarela Iupay.
Compatibilidad con certificados SNI (Let's Encrypt).
Dos terminales.
Devoluciones.
Tokenización (Pago por referencia).
Pago con un solo clic.
Pago con un solo clic sin abandonar la página web
Compatible con WooCommerce Subscriptions (todas las opciones)
Preautorizaciones.
Confirmación de preautorizaciones desde el pedido en WooCommerce.
Domiciliaciones bancarias.
Productos privados.
Personalización del logo.
Selecciona el idioma de la pasarela Redsys desde la administración de WordPress.
Compatible con WPML.
Selección de acción tras el error de un cliente al pagar en la pasarela Redsys.
Se informado por correo electrónico cuando el cliente tiene un problema pagando en la pasarela Redsys.
Número secuencia de facturas.
Exportador CSV.
Compatible con PHP 5.6, 7.0, 7.1, 7.2 y 7.3
Esta extensión añade la posibilidad de usar la pasarela de pago Redsys y la pasarela de Pago Iupay a WooCommerce. Iupay es la nueva pasarela creada por Redsys y que su funcionamiento es similar a Paypal. Es totalmente compatible con WPML.
A demás, obtendrás el pago por referencia, con el que tus clientes no deberán introducir su número de tarjeta cada vez que quieran realizar una compra en tu tienda, de esta forma, aumentas la conversión por la necesidad de realizar menos pasos. También podrás devolver pagos en el caso en que lo tengas que hacer, ya sea en su totalidad o de forma parcial desde la misma administración de pedidos.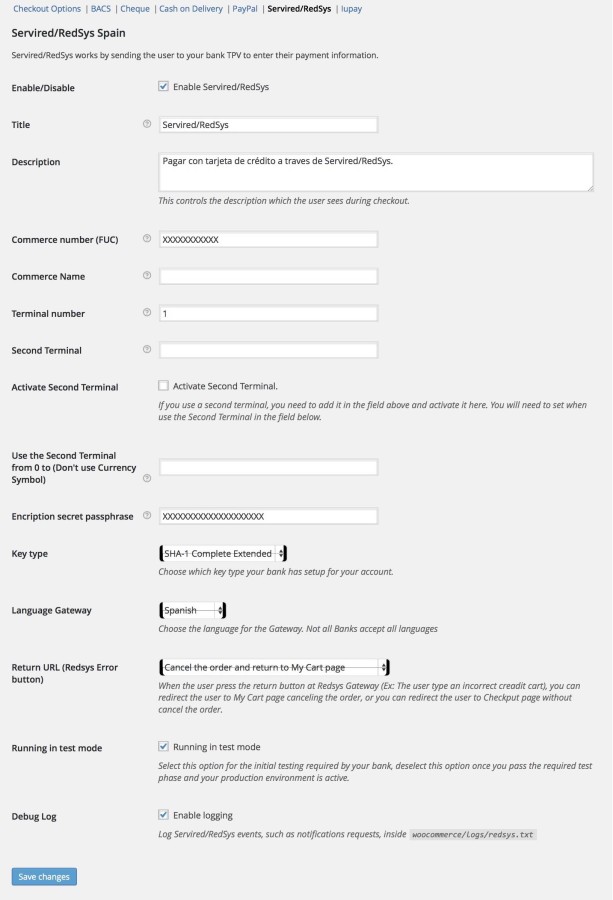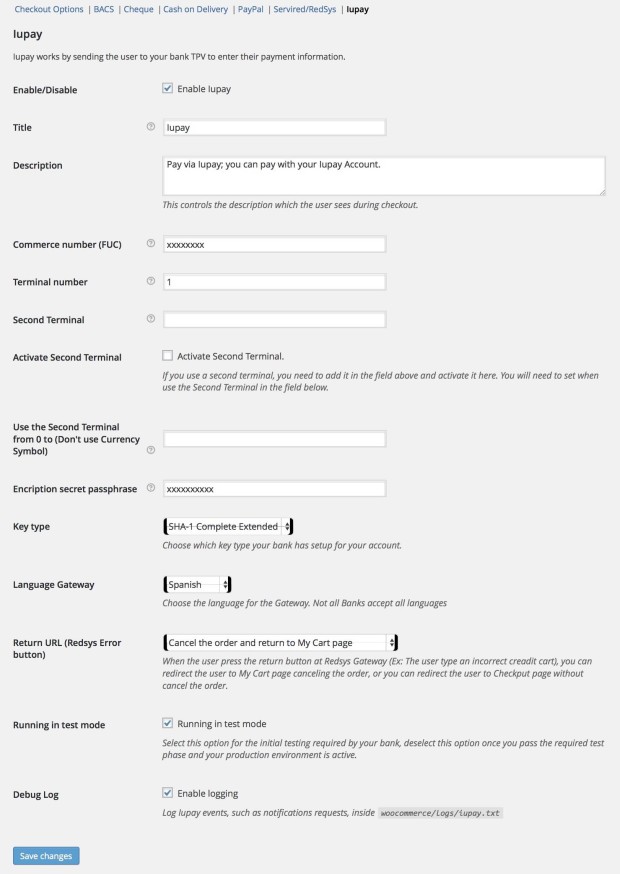 Esta extensión también añade números secuenciáles a las facturas, de forma que cada vez que un pedido es pagado, se crea una factura con un numero consecutivo. Esto es esencial es España. La ley obliga a ello, y si no las tenéis secuenciáles, podéis tener problemas.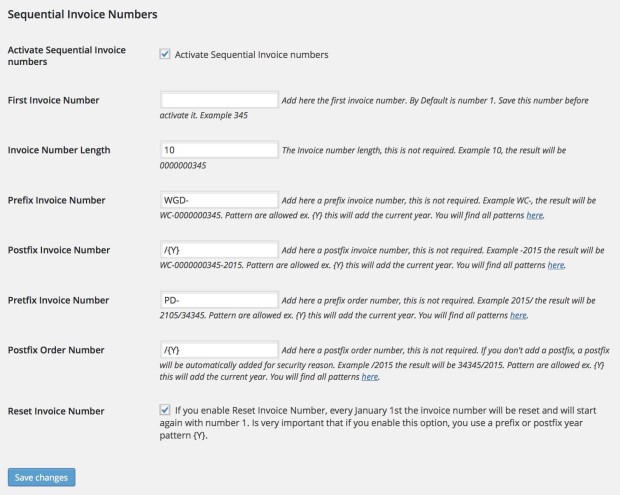 También se añade un exportador CSV para todos los pedidos, de forma que podréis exportarlo a un archivo CSV (pudiendo importarlo en un excel por ejemplo) y utilizarlo tanto para la contabilidad, como para realizar los envíos.